The hypocritical media coverage of the New Zealand terror attacks
Humanity has been shocked by the recent terrorist attack on two mosques in New Zealand that killed at least 50 people and left 50 wounded.
The alleged perpetrator, who spewed his hatred of Muslim immigrants in an online manifesto, called U.S. President Donald Trump a "symbol of renewed white identity and common purpose" and denounced the "decaying" culture of the white, European, Western world.
Although the carnage was condemned extensively across geographical borders, some reporting in England and Canada has been troubling.
For example, there has been the seeming reluctance of some coverage to use the label "terrorist" for the shooter, and the way the perpetrator and victims have been characterized in this and other similar events.
As a PhD candidate, I look at how media outlets cover and translate news from the Middle East. In doing this, I explore how different representations of people emerge during news production and translation.
As the news of the shootings in New Zealand quickly unfolded, I took note of the way the event was covered in news media and how the coverage was being discussed on social media.
A mass killer also an angelic boy?
Although the Daily Mirror headline called the alleged shooter an "evil far-right mass killer," the body of the text and photo tell a different story. The report says he was an "angelic boy who former associates revealed was a likeable and dedicated personal trainer running free athletic programmes for kids."
Is that the best descriptor of a man who opened fire in two mosques as people prayed?
The Mirror was heavily critiqued on social media, as reported in the Daily Sabah. Many cited its past reporting on the 2016 Orlando nightclub shooting that included the following headline: "ISIS maniac kills 50 in gay club."
Although both acts of terror share a lot in common, the Daily Mirror portrayed the New Zealand mosque attacker as a onetime sweet innocent pure child, while the Orlando shooter was a demonic Islamic extremist.
The Daily Mail described the alleged terrorist as a "little blond boy" whose father died of cancer. Similarly, the Australian Courier Mail called the shooter a "working-class madman."
Reporting on such tragic attack using phrases like "working-class madman," "blond boy" and "angelic boy" masks the Islamophobic motives of the accused. The short-hand also minimizes his association to white supremacy and right-wing extremism.
A terrorist attack?
The attack was immediately labelled by New Zealand Prime Minister Jacinda Ardern as "terrorism." But an informal and initial examination of reports by the BBC and, in Canada, Global News and Ici Radio Canada, indicates that journalists at those news organizations did not use that term.
Terrorist is a label that jumps easily into headlines and news reports when the perpetrator is Muslim, but is often handled with caution or tossed out entirely when the perpetrator is white.
BBC's editorial guidelines with respect to impartiality and terrorism coverage didn't seem to be followed. Latifa Akay, a director at a U.K.-based charity group, wrote in the Guardian about an interview she did with BBC TV two days after the mosque murders. In the interview, BBC host Shaun Dominic Ley asked Akay whether she thought mainstream Muslim communities in the U.K. do enough to condemn Islamist extremism. Akay wrote:
"…somehow it felt appropriate for the presenter to re-establish an order — of Muslims as the aggressor and never simply a worthy victim. Where is the dignity of the dead, of the grieving?"
The interviewer's question suggests that Islamist terrorism is an abominable violence, but anti-Muslim terrorism is partially instigated by Muslim communities.
The host relied on the most distorted interpretation of Islam, and by doing so implied that to be a Muslim was a significant factor in the actions of a far-right terrorist.
Canadian narratives
Last year in Canada, after an attack with a vehicle was committed outside a football stadium in Edmonton by a Somali refugee in which five people were injured, Global News and Ici Radio Canada immediately called the incident "Edmonton terror attacks", "Attaque terroriste: Edmonton défie la haine and "Attaque terroriste : pourquoi Edmonton?"
A study by scholars at the University of Alabama and Georgia State University shows that terrorist attacks committed by Muslim extremists receive 357 per cent more U.S. media coverage than those committed by non-Muslims. In Canada, a study by Azeezah Kanji, the director of programming at Toronto's Noor Cultural Centre in the open access journal, Religions, revealed that acts of violence perpetrated by Muslims received 1.5 times more coverage, on average, than those by non-Muslim ones. Thwarted Muslim plots received five times more coverage.
Research by communication scholar Wendy Naava Smolash compared media coverage of two high-profile anti-terrorism cases in Canada. Smolash found that the Globe and Mail and the National Post used racialized signs of otherness to characterize the incident and people involved. This type of narrative raises concerns on how news media may normalize state violence against Muslims and racialized minorities.
Such coverage reinforces specific narratives about what and who should be feared the most.
This media stigma and bias have real and devastating impacts on the daily lives of Muslims.
When white individuals commit horrendous acts, it seems news outlets portray them as people deserving of humanity. They are portrayed with complicated personalities: the little "angel" who went astray even after being revealed as a vicious and violent racist.
Those who share the same background as the alleged gunman — white and male — do not have to be anxious about the backlash against their community; they will not be asked to apologize for the unhinged among them; the will not worry about the looks they'll get out in public.
But in the fallout of New Zealand, Muslims will have to contend with that.
Houssem Ben Lazreg, PhD Candidate in Modern Languages and Cultural Studies/ Associate Instructor, University of Alberta
This article is republished from The Conversation under a Creative Commons license. Read the original article.
Drake's Toronto Restaurant Pick 6ix has Re-opened as a Sports Bar
Pick 6ix Sports has officially revealed it's new look for what was previously Pick 6ix. The restaurant, a partnership between Drake, OVO's Chubbs Beezer and Montreal chef Antonio Park, opened last February but closed early due to flood damage that occurred in August.
Representatives announced that the entire restaurant had suffered extensive water damage, from the luxe gold and black furniture all the way to the kitchen.
The spot has remained closed since then, causing some to speculate if Pick 6ix would ever re-open. And it looks like, finally, the answer is yes. The newly-rebranded Pick 6ix Sports "will introduce a brand-new look and feel at 33 Yonge St., creating a contemporary sports bar destination in the heart of the city's Financial District," a release reads.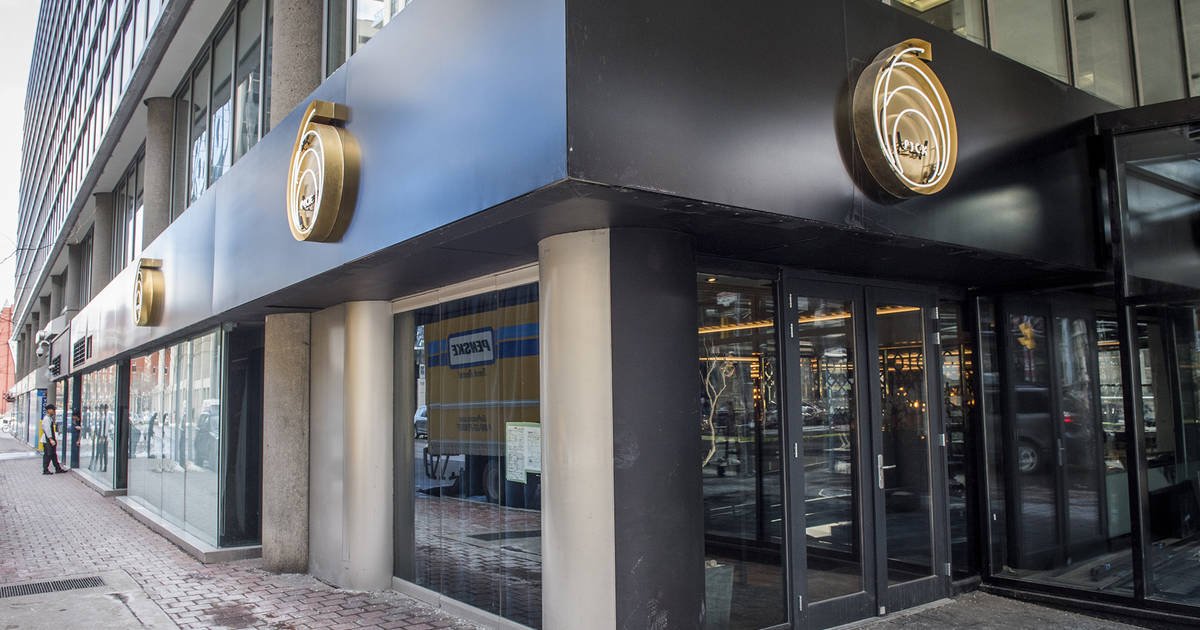 New look, new vibe, new menu… this is #Pick6ixSports. Our doors are now open! Come through after tonight's @raptors game where the team's official DJ @4Korners will be on deck. #toronto #the6ix #nba #Raptors pic.twitter.com/Pn1ifPIPVN— Pick 6ix Sports (@Pick6ixSports) March 22, 2019



The new space is a little less glitzy and a little more open featuring over 38 flat screen TVs, and a major upgrade to the menu. Featuring elevated bar classics like chuck prime rib burgers and brisket nachos. However, for those who want to be a little more fancy, there's some hidden gems. Try ceviche, vegan potstickers, jerk grilled salmon, or tuna poke bowls. Okay Drake, we see you.
Perfect spot to catch all the action from the Raptors and Leaf's playoff games? Could be. After each Raptors playoff game, the team's official DJ @4Korners will be hitting the turn tables.
How an NHL street party caused a social media storm about racism
LAs the city of Winnipeg was preparing to host a large celebration to mark the beginning of the National Hockey League playoffs for its team, the Jets, a storm broke out over social media over a headline about the hockey street party.
A story that described the preparations for the outdoor public celebration during the playoff game in the Winnipeg Free Press included this headline: "Jets parties will turn downtown white again." The original story ran with a photo of four men wearing all-white, hooded costumes. Both the headline and photo were later changed.
Soon after, Black Space Winnipeg, an anti-racism advocacy group, tweeted a response to the article and posted a comment on its Facebook page. The group implied the words "white again," along with the photo, would make racialized people feel unwelcome in the city. The group also suggested in a Facebook post the name of the playoff party ("Whiteout") be changed.
"Have a look at these photos from past Jets pandemonium/fan appreciation. The four men wearing all white Jets outfits with pointed hoodies … remind you of anything?"
On Twitter the group wrote:
"This headline can carry a very different meaning depending on who's reading it …"
Many people reading the tweet from Black Space Winnipeg did not take the time to think about the original headline of the article before they hurled back angry, misinformed or racist replies.
Some examples: "Go back to playing basketball and leave hockey alone" and "its (sic) ok to be white," a slogan made popular by white supremacist groups.
I believe the angry tweets and Facebook comments can be classified into two main complaints: many people felt the term "whiteout" was never intended to be racist and that making that claim is political correctness run amok.
Words and traditions change because our world is not static. We shouldn't be afraid to institute change as we become aware of errors made in the past. Decisions made 30 or even 100 years ago have been challenged and changed. Sports have also changed. McGill University recently dropped the name of its sports teams, the Redmen, because as McGill University's principal said, it is "widely acknowledged as an offensive term for Indigenous peoples, as evidenced by major English dictionaries…we cannot ignore this contemporary understanding."
She said the name "is not one the university would choose today, and it is not one that McGill should carry forward."
Winnipeg pride
Last year, the Jets won their first playoff series since the team returned to Winnipeg in 2011, making it all the way to the conference finals. This was a big event for the city. The parties attracted thousands of people to downtown Winnipeg. The crowds were loud and boisterous, but according to media reports, the atmosphere was friendly and a good example of the city's community spirit in action.
For many Winnipegers, it was a positive image that helped to negate the often stereotypical images many Canadians have about their city as boring, cold as Mars (or hot and full of mosquitoes in summer), or one of Canada's most violent communities.
"The whiteout" is a nickname for Jets street parties originated three decades ago. According to the CBC, the parties started as a response to the Calgary Flames' "Sea of Red" during the 1987 playoffs. That was at a time when the Jets home colours were white, not blue as they now are, but the tradition has stuck. Although the Jets left Winnipeg in 1996, the "whiteout" resumed after the team's return to the city in 2011.
On the surface, the term "whiteout" seems fairly benign and aptly describes the scene. Photos of the event confirm that it is indeed a sea of white. It looks like a blizzard, a phenomenon that naturally occurs in Manitoba winters.
It's the second explanation — political correctness run amok — that is the most worrisome.
Concerns dismissed
Many fans dismissed the concerns of Black Space Winnipeg and others, rather than considering why the headline might have been offensive.
I read some of the over 450 replies on Facebook and over 400 replies on Twitter. Many of the responses gave nonsensical responses that showed how little the reader understood the issue and how little they valued the conversation on racism in their city centre.
To demonstrate how ridiculous they thought the issue was, a few posters submitted ideas like having a white refrigerator makes them a racist.
But the headline, along with the photo of men in white hoods, can be interpreted as "only whites are welcome" message. The intention of the message may be innocent, but the way it is understood by the people will depend on their social location.
In a city where racism often rears its ugly head, it is understandable that the seemingly innocuous headline can be understood to be threatening — especially by people who experience discrimination.
Black Space Winnipeg and other social activist organizations are asking Canadians to have conversations about race and to think about how we use language and how the way we label things and visualize them can unintentionally include and exclude groups of people.
Our current social climate in Canada, and in Winnipeg, has given space to more explicit expressions of racism, and therefore we — and our media outlets — need to think about the ways we use language and how that language may perpetuate bias.
Lori Wilkinson, Professor of Sociology, University of Manitoba
This article is republished from The Conversation under a Creative Commons license. Read the original article.
How Turkish Women With Disabilities Are Entering the Workforce
Women with disabilities often encounter 'double discrimination' in Turkey – faced with unemployment or lower-grade jobs on account of their gender and their disability. Government work quotas are not solving the issue, so Turkey's women are taking matters into their own hands.
ISTANBUL, Turkey – "When you work with people with disabilities you see that if a person with a disability gets strong enough and can defend their rights, he or she does not need any financial or psychological help anymore." That's the view of Professor Resa Aydin of Istanbul University, a long-standing campaigner for disability rights in Turkey. Aydin believes that the government's quota system, introduced in 2014 to ensure businesses employ a mandatory number of people with disabilities, is well-meaning but flawed – particularly when it comes to women.
About 5 million people with disabilities live in Turkey: 43 percent men; 57 percent women. Some 35 percent of men with disabilities are part of the country's workforce compared to only 12.5 percent of women with disabilities. Furthermore, according to research by the Association of Women with Disabilities (Engelli Kadin Dernegi), those women who are able to get a job – despite the two-pronged prejudice against both women seeking employment and people with disabilities – are generally paid less than their male counterparts, disabled or otherwise.
Despite an increase in the number of women with disabilities going into further education in recent years, they are still not able to get jobs that match their level of education. Regardless of their skill set, they are often employed as secretaries or receptionists – a disparity the government's quota system fails to address.
Professor Aydin has been working on a rights-based approach to disability for more than 20 years. As the head of Istanbul University's Unit of Students with Disabilities, she says there is no gender discrimination of people with disabilities at her university, adding, "We do not see double discrimination in education. When education is completed and work life starts, we encounter double discrimination then. We see that men with disabilities are employed in preference to women with disabilities."
In regards to the government's quotas, Aydin says, "I do not think it is a system that functions well." For such an initiative to be successful, training of employers, enforcement of environmental regulations and promotion of the rights of people with disabilities should also be undertaken. Only then, she argues, will people with disabilities – particularly women – be able to truly enjoy a lack of discrimination.
Instead, it has been left for those at the front line of this battle to attempt to give others the help they never received themselves.
Duygu Kayaman is an entrepreneur who has taken a crucial step in facilitating access to information for visually impaired people with her project Hayal Ortagim (Dream Partner). Kayaman lost her sight when she was two and a half years old, and has developed the project based on her own needs and experiences in academia and the world of employment. Visually impaired people throughout Turkey can now access the day's newspapers thanks to her application, which provides a spoken-word version of the publications via a smartphone app, allowing 200,000 people with restricted or complete lack of vision to keep up to date with current events.
Kayaman suggests disabled women who want to take the initiative "should never give up until they find the right people to be the partner to their dreams."
It is advice that rings true for Gulay Salman, who works with children with disabilities at the Sevgi Melekleri Arts Sanat Atolyesi (Love Angels Arts Workshop). Salman, a former kindergarten teacher from the province of Kocaeli, lost the use of the right side of her body due to paralysis five years ago. As part of her rehabilitation, she started to research on the internet what she could do with one hand and thus became interested in handicrafts. She made products such as candy and door ornaments, earning income from her efforts.
She then decided to share her talents, while providing socialization for children with disabilities, and has been running the workshop ever since.
Love Angels does not currently have a fixed location, something Salman hopes will change soon: "If a center can be established, children will be able to devote more time to crafts. We aim to pave the way for them to be independent individuals and obtain their own incomes. We want to build a structure where they can both socialize and acquire a profession."
Salman adds that this goal is particularly important for girls with disabilities as they are viewed as being almost entirely dependent on their parents: "Parents are hardly ever separated from girls."
For Salman, establishing a center and allowing children to empower themselves through crafts is a hugely important step in changing the way Turkish society views people with disabilities – something that the government's quota legislation could never hope to cultivate.
"All people with disabilities have [the same] rights as other people. We can work, we can join politics, we can be business people. I do not want anybody to view people with disabilities in a pitying manner," she says
This article is republished from News Deeply under a Creative Commons license. Read the original article.