The Death of the CWHL Presents a New Opportunity for Women's Professional Hockey
The sudden announcement by the Canadian Women's Hockey League (CWHL) that it was ceasing operations has generated controversy and confusion. But as an academic who researches sport organizations, I have a different take — the CWHL closure opens the door for new and innovative women's professional hockey opportunities.
On the surface, this ordeal reads as a tale of two leagues – one non-profit, the CWHL, and one for-profit, the National Women's Hockey League (NWHL).
When the CWHL announced it was shutting down, the league's board of directors stated"the business model has proven to be economically unsustainable." Many fans and media took this to mean the non-profit model won't work and the only option is the NWHL's for-profit approach.
But this is a shortsighted view.
Closure is a catalyst for change
The closure of the CWHL is a catalyst for other key stakeholders to enter the scene — which has happened many times in the past for men's professional hockey, where leagues have come and gone.
As my early doctoral research shows, many different stakeholders — including players, hockey federations, government and industry officials — have influenced the development of hockey over time.
The Canadian Amateur Hockey Association, created in 1914, initially resisted popular pressure to allow pay-to-play leagues to emerge. But as players opted for independent leagues that paid them, the CAHA loosened its regulations and accommodated a degree of professionalism while at the same time overseeing the development of hockey in the country.
This shift opened the market to hockey boosters and entrepreneurs, some of whom owned rinks and needed to have an attractive product in order to entice customers.
Money-making activity was fast and furious. Leagues came (the National Hockey League started in 1917) and went (the professional National Hockey Association lasted from 1909-18).
Rivalry between leagues
In his account of the emergence of the NHL, academic John Wong says separate camps jockeyed for position and profit as commercial hockey gained public interest. This is no different than the interplay — or as some note, the business rivalry — between the CWHL and NWHL that has unfolded since 2015, when the U.S.-based NWHL formed.
Women's hockey also attracted economic interests during the early part of the 20th century. In his review of American women's hockey in the First World War era, Andrew Holmannotes that sports entrepreneurs sought new ways to sell the game, and as a result, women's hockey was positioned as a commercial venture. The key point Holman makes about this historic time, though, is the rise and fall of the women's game, including its professional form. It is important to note the CWHL story has happened before.
In his examination of hockey capital and the sports industry, historian Andrew Ross notes the complex men's professional hockey landscape has included single-ownership leagues. He points out the NHL was once an unincorporated, non-profit organization.
Not a new model
The key lesson, then, is to recognize the CWHL model was not new and that this approach, as well as others, has existed and failed in the past. More importantly, these models, and the individuals that spearheaded them, pave the way for new and viable professional women's hockey approaches to emerge.
Which brings us to the next phase of the story.
In my work on the global development of women's hockey, I note there is no one "best" model, and that each country must develop at its own pace through a method that best suits its unique hockey system. The same is true for a professional women's hockey league.
However, the CWHL's shutdown created a vacuum. Just over 48 hours after the CWHL released news of its decision to close, the NWHL's board announced an investment plan to establish two teams in Canada, and that it received a financial sponsor commitment from the NHL. And so, in a similar fashion to how the NHL and World Hockey Association, a rival men's professional hockey league that existed from 1972-79, merged, one league shuts down while the others acquires some of its franchises and moves on as the lone commercial player in the female game.
Looking back to 2015 when the NWHL was formed, it's interesting to reflect upon the CWHL's response. The CWHL commissioner at the time, Brenda Andress, commented that the NWHL model was wrong and "that for us, it's about sound operational and financial foundations first because we want to ensure the viability of the long term."
During its 12 years of operation, the CWHL took this approach and in so doing, shaped the professional women's hockey landscape. It's now time for the next stage.
Drake's Toronto Restaurant Pick 6ix has Re-opened as a Sports Bar
Pick 6ix Sports has officially revealed it's new look for what was previously Pick 6ix. The restaurant, a partnership between Drake, OVO's Chubbs Beezer and Montreal chef Antonio Park, opened last February but closed early due to flood damage that occurred in August.
Representatives announced that the entire restaurant had suffered extensive water damage, from the luxe gold and black furniture all the way to the kitchen.
The spot has remained closed since then, causing some to speculate if Pick 6ix would ever re-open. And it looks like, finally, the answer is yes. The newly-rebranded Pick 6ix Sports "will introduce a brand-new look and feel at 33 Yonge St., creating a contemporary sports bar destination in the heart of the city's Financial District," a release reads.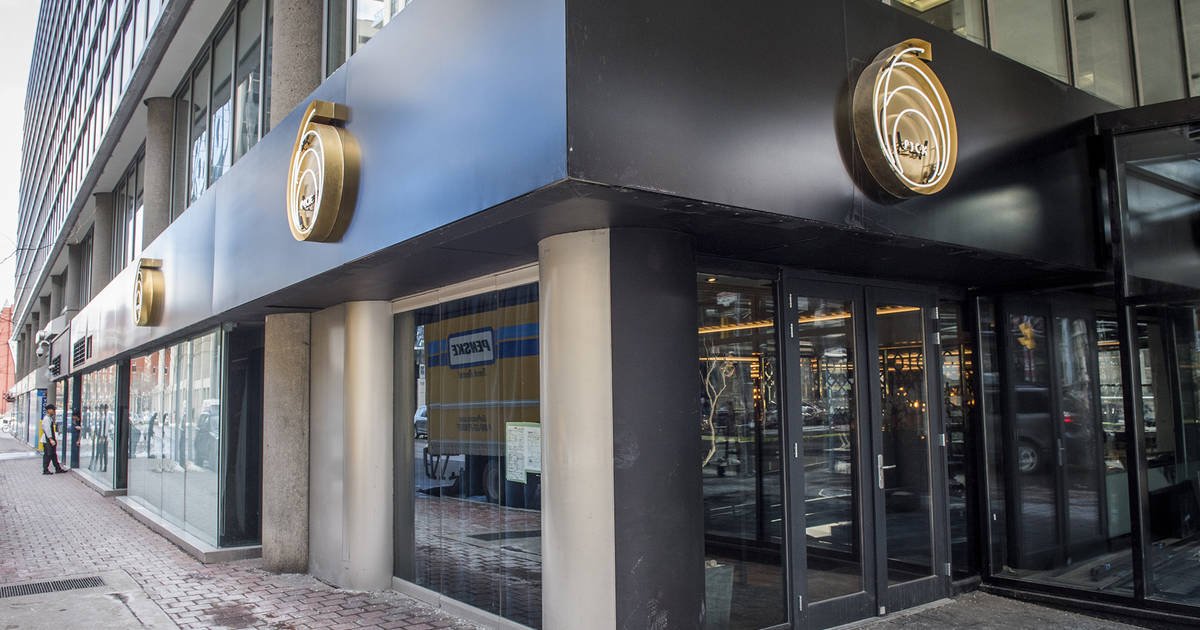 New look, new vibe, new menu… this is #Pick6ixSports. Our doors are now open! Come through after tonight's @raptors game where the team's official DJ @4Korners will be on deck. #toronto #the6ix #nba #Raptors pic.twitter.com/Pn1ifPIPVN— Pick 6ix Sports (@Pick6ixSports) March 22, 2019



The new space is a little less glitzy and a little more open featuring over 38 flat screen TVs, and a major upgrade to the menu. Featuring elevated bar classics like chuck prime rib burgers and brisket nachos. However, for those who want to be a little more fancy, there's some hidden gems. Try ceviche, vegan potstickers, jerk grilled salmon, or tuna poke bowls. Okay Drake, we see you.
Perfect spot to catch all the action from the Raptors and Leaf's playoff games? Could be. After each Raptors playoff game, the team's official DJ @4Korners will be hitting the turn tables.
Regulations needed after cryptocurrency CEO takes passwords to his grave
Lisa Kramer, University of Toronto
A high-stakes legal drama featuring cryptocurrencies has been unfolding in a Canadian court recently.
The antics that led to the litigation almost defy credulity, and they highlight the need for new regulations to better suit a financial marketplace that includes virtual currencies.
News broke in early February that Canadian cryptocurrency exchange QuadrigaCX was seeking creditor protection, leaving in financial limbo about 115,000 people who had entrusted the firm to maintain their deposits of cash, Bitcoins and other digital tokens worth an estimated C$250 million.
The company's need for bankruptcy protection arose when its founder and chief operator, Gerald Cotten, died suddenly in December while vacationing in India. Normally, if a financial institution's executive officer meets an untimely demise, he or she doesn't bring to the afterworld the only keys to the vault. And thus clients maintain continued access their deposited funds all the while.
In the case of Quadriga, unfortunately, Cotten was the only living soul who knew the password to an encrypted offline repository, known as cold storage, where the firm had enshrined the vast majority of clients' cryptocurrency deposits. Without the password, no one can access those holdings.
Murky or absent regulations
While the Nova Scotia Supreme Court wades its way through some very novel and complex issues, the question that comes to my mind is: How has one bad decision about password custodianship caused more than 100,000 people to lose access to their deposits?
The answer lies in the murky and mostly lacking regulations that govern the cryptocurrency world. Nothing stops entrepreneurs like Cotten from running companies like Quadriga with no independent oversight.
Had he ever raised equity capital from investors in return for tokens or coins, that process would have been governed by Canadian securities regulations. But because Quadriga is an exchange — maintaining deposits and facilitating conversions between regular cash and cryptocurrencies, but not issuing cryptocurrencies in exchange for ownership shares — it operates in a regulatory vacuum.
In Canada, the Office of Superintendent of Financial Institutions (OFSI) oversees banks that take regular dollar deposits. One might argue that the OFSI umbrella ought to be adapted to include oversight of virtual exchanges like Quadriga, even though such institutions are not technically banks and their deposits are non-traditional in nature.
That oversight would impose accounting standards and reporting requirements that would help prevent the sorts of irresponsible missteps that put Quadriga depositors in such a precarious position.
A likely side benefit of regulatory supervision would be the eventual development of standardized safeguards against hackers and other cybercriminal activity that plagues the cryptocurrency world.
Lack of regulations attractive to some
A feature that draws many crypto enthusiasts to the virtual currency sector is the very fact that it lacks government oversight, and those individuals will bristle at any hint of new regulations.
Members of the general public might also be leery of new laws lest they grant an undeserved sheen of legitimacy to cryptocurrencies, which are not suitable investments for anyone except the most risk-loving of speculators.
But in Canada, we regulate many industries that are risky or distasteful to some, including gambling, alcohol, tobacco and marijuana. The underlying calculus is that providing standards for certain illicit activities is preferable to driving those activities to the black market, where the risks would be amplified.
For instance, a benefit of buying my beloved guilty pleasure of choice, craft gins, from a regulated marketplace is that I can imbibe confident in the knowledge that my cocktails are free from wood alcohol. Three cheers for avoiding blindness!
We cannot protect Canadians from all possible risks, especially when it comes to financial markets. And to be clear, I am not suggesting that we indemnify cryptocurrency speculators against losses that may arise from taking calculated risks, such as the beating that some fortune-seekers have taken since Bitcoin valuations plummeted from stratospheric heights.
Rather, I propose that depositors ought not to be penalized for the indiscretions of the custodians to whom they entrust their financial holdings.T
Lisa Kramer, Professor of Finance, University of Toronto
This article is republished from The Conversation under a Creative Commons license. Read the original article.
No vacation? Find serenity with these five financial wellness tips
Have you been thinking about money lately? Wondering where to find more? Thinking you could do a better job of managing the dollars you have? If so, you are in good company.
Between figuring out how to pay for bills that added up over December holidays, wishing for warmth or a vacation and looking at the beginning of tax season, this is a time of year when people are often prompted to take a closer look at their finances.
Canadians and money
Yet the picture we see when we look closer isn't always good. Canadian households are holding record levels of debt, and savings rates continue to be low.
With less than 40 per cent of paid workers covered by a registered pension plan, saving for retirement is a critical challenge for many families.
Surveys show large portions of the population in Canada report they are financially stressed, and that this stress ripples out and negatively affects other aspects of their lives.
As a researcher in family economic health, colleagues and I have been researching the financial challenges and opportunities for Canadian adults in mid-life.
Our research shows that the more money family caregivers need to spend on the care needs of others, the worse their own personal financial, social and health outcomes are. It also points to the need to consider our own care needs as well as our families' when we plan our financial futures.
The financial crisis of 2008-09 sparked increased interest in financial literacy worldwide. In Canada, the Task Force on Financial Literacy defined financial literacy as having the knowledge, skills and confidence to make responsible financial decisions.
Following on the work of the task force, the Financial Consumer Agency of Canada consulted widely and developed a national strategy for financial literacy.
Now researchers are moving beyond the idea of financial literacy, which tends to focus on what we know about finances, to thinking about financial well-being or financial health — the outcome we want to achieve.
What is financial well-being?
An international authority on consumer finances, Elaine Kempson, defines financial well-being as the capacity to meet one's current obligations comfortably and the resilience to maintain this capacity in the future.
That's challenging for many reasons. We have to make decisions for today that are going to help us in a future with a lot of unknowns.
It isn't just financial knowledge that matters, but also what we are able to do with that knowledge in our economic and social environments.
Further, as research in behavioural economics is showing, our brains can get in the way. We think we are making perfectly rational, logical decisions when we aren't.
Technological innovation in financial services ("fintech") can be difficult to keep pace with and understand.
And, although there are lots of resources, it can be difficult to figure out which are appropriate for our own situation.
So if you've been finding it difficult to get control of your money and make the changes you want to make to improve your financial well-being, there are some good reasons it might be challenging.
While some people respond to a challenge by digging right in, others prefer to look the other way and hope it will all work out in the end.
However, when it comes to money, looking the other way can result in big problems — or at the very least, missed opportunities.
Tips for increasing financial well-being
Whether you feel overwhelmed by your finances and don't know where to start, or you think things are pretty good but you'd like to make them better, it's never too late to make a change.
Here are some tips and techniques to start improving financial well-being.
1. Spend less than you earn
Think about three big categories of money: spending for today, saving for the future and giving to the causes and organizations that matter to you and your family. When we spend less than we earn, we create the space to save and to give to others. Note: spending includes debt repayment!
2. Do the math
No one tool is best, but most of us could use a little help in making a budget, revising it as needed and tracking spending. Use what works for you, whether that's a spreadsheet, an app, financial software or a pencil and paper. The best tools are the ones you use. The Financial Consumer Agency of Canada has some great information on budgeting and many other aspects of finances.
3. If possible, don't do it alone
If you have a spouse or partner, work to be sure you are on the same page with financial decisions. Financial stress can be a significant source of tension in relationships. If you're single, could you have a low-budget finance date or breakfast with a friend to compare notes?
And if you have kids, bring them into money conversations in age-appropriate ways. Research is showing parents can be important, positive financial role models for their children.
4. Save off the top
Arrange to have a set amount come out of your chequing account and go into a savings account each payday. Revise the amount as your pay changes over time. Aim to have three to six months worth of expenses in savings to cover emergencies. Investigate tax-free savings accounts (TFSAs) and registered retirement savings plans (RRSPs) for longer-term financial goals.
---
Read more: How to determine what's better – RRSPs or TFSAs?
---
5. File that tax return
Even if you don't owe taxes, file that return!
Filing is the only way to get refundable tax credits like the GST/HST refund. Federal and provincial governments use the income on tax returns to establish eligibility for benefits and supports like the Canada Child Benefit.
Even if you don't get a sunshine getaway this year, if you're responsible and proactive right now, a piece of that serenity will be within reach through your ongoing wellness — and the occasional well-planned splurge.
Karen Duncan, Associate Professor, Department of Community Health Sciences, University of Manitoba
This article is republished from The Conversation under a Creative Commons license. Read the original article.